As writing changes when writers work online, so the way they portray themselves and the way society portrays and thinks of them changes. Or so I thought.
Image of student c. 1588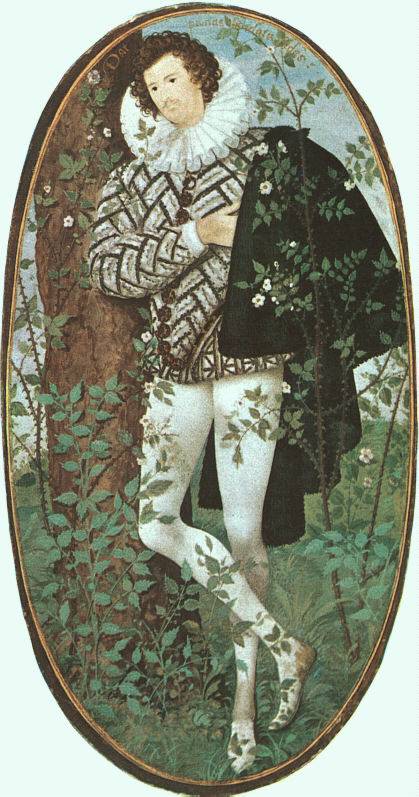 Nicholas Hilliard: Youth beneath a Tree. Watercolor an vellum.
http://www.ibiblio.org/wm/paint/auth/hilliard/
more at
http://en.wikipedia.org/wiki/Nicholas_Hilliard
[need historical notes on this - ]
[need description
Early images of bloggers such as
Newsweek
cast them as young, slightly disheveled women, in dramatic, contrasty light, dreamily (or pensively) staring out of windows on pastoral scenes (trees, green, no buildings), often with an open book in one hand - but not a computer in sight. They strove for a sense of young, innocent, quiet introspection.
The stories also describe bloggers in these romantic terms.
[Find those two stories from 2001.]
March 5, 2001, Newsweek, U.S. EDITION
By Deborah Branscum
Who's Blogging Now?
If you want reality, forget "Survivor." Check out Weblogs: public online journals that can be racy, riveting and alarmingly blunt. The updates--often daily--let fans follow every twist and turn in an author's life. In Tennessee, Meghan O'Hara has been working up the courage to ask Alex out for a date--a mere eight years after she first got a crush on him in high school. In Texas, chest pains sent Noah Grey to the hospital again, and his camera is
Click Here for Complete Article (851 words)
[Look at
Wired
, too. Slightly different take.]
Each comments on writing and writers differently.
writer 1
interior, backlit against window, profile, hunched over paper, pen tightly clasped, disheveled, solitary, focused on paper, unaware of photographer.
writer 2
exterior urban or university scene (traces of autumn), 3/4 face, neatly trimmed goatee, wire glasses, leather, no writing instruments, on the move, looking at viewer, aware of photographer.
[Need sources from Paris Interviews to see how the writers' depiction of self in interviews compares to the pictoral.]
[Some conclusions here - ]
version 3.1
Self portrait. writer in the context she blogs about, in the world, but not easily identifiable.
distant shot. image of writer does not dominate the scene. image heavily worked and layered - photoshopped. combines text and image: Way Out sign layered over main shot of (unidentified) tube station. Plays between being able top identify and not.
Rebecca Blood: publicity head shot
Posed, used for publicity. B&W, goth emphasized.
Dervala
Dervala at
http://www.dervala.net/
the wishing chair
Self portrait, reflective / reflexive. The blogger is taking a pic of herself as reflected in a screen, with her laptop and camera - the tools she uses to blog with - from and in the chair mentioned in the posting. Looking at the camera lends, which means she looks a viewer, aware of an audience, but also aware of mediation: the audience is not in her space but outside looking in.
[as above: need sources - interviews with bloggers or self-reference postings to see how the image and text compare]]
Compare the two sets of images: writers and bloggers: both linger on the romantic and share more with Hilliard's depiction of the student than we might care to admit.
---
CategoryBlogging