Transparent Language and the Transparent Image
Tell all the Truth but tell it slant--
Success in Cirrcuit lies
Too bright for our infirm Delight
The Truth's superb surprise
As Lightening to the Children eased
With explanation kind
The Truth must dazzle gradually
Or every man be blind--
Or every man be blind--
The Truth must dazzle gradually
With explanation kind
As Lightening to the Children eased
The Truth's superb surprise
Too bright for our infirm Delight
Success in Cirrcuit lies
Tell all the Truth but tell it slant
---
Treason of Images
Treason of images. P 34: short circuits a discourse apparatus - that of language as transparent and expressive of a world or a true self. To say that Dickinson's poem expresses what she thinks about Truth is to point to the Treason of Images and say, "That is a pipe." We get a momentary sense of accuracy, but when we take a slightly different perspective, we have to say that the poem can't express a self or what that self might think any more accurately than the painting depicts a pipe.
With that paragraph above, I'm attempting to short circuit the discourse apparatus of text as self-expression - specifically, that of highly regulated print text as self expression. If that paragraph is a self (it's not), it's an over-determined one, highly constrained into a formally polite, fawning self.
---
Now consider a realistic portrait painting, done in oil, which is a medium that permits the kind of color and brushwork that makes "realism" possible: slow drying times, intense colors, fine brushwork, and smooth surface. You can't do this with water colors or acrylics.
A realistic oil portrait or self-portrait at first suggests transparency to world and by convention, transparency to another's self or essence. The convention is that a highly skilled painter creates a moment or scene of expression that reveals (it's normally hidden?) a essence. The artist channels the essence of the sitter in paint. Does this self painted know itself? If not, is it a particularly bright self? What are we ignoring when we look at an image this way? Whose conventions are we blindly following? Those are the kinds of questions O'Gorman wants to call to attention in short-circuiting the discourse apparatus.
And a look at the source of this image will suggest that the image already short-circuits the historical discourse apparatus of "oil portraits by old masters."
Source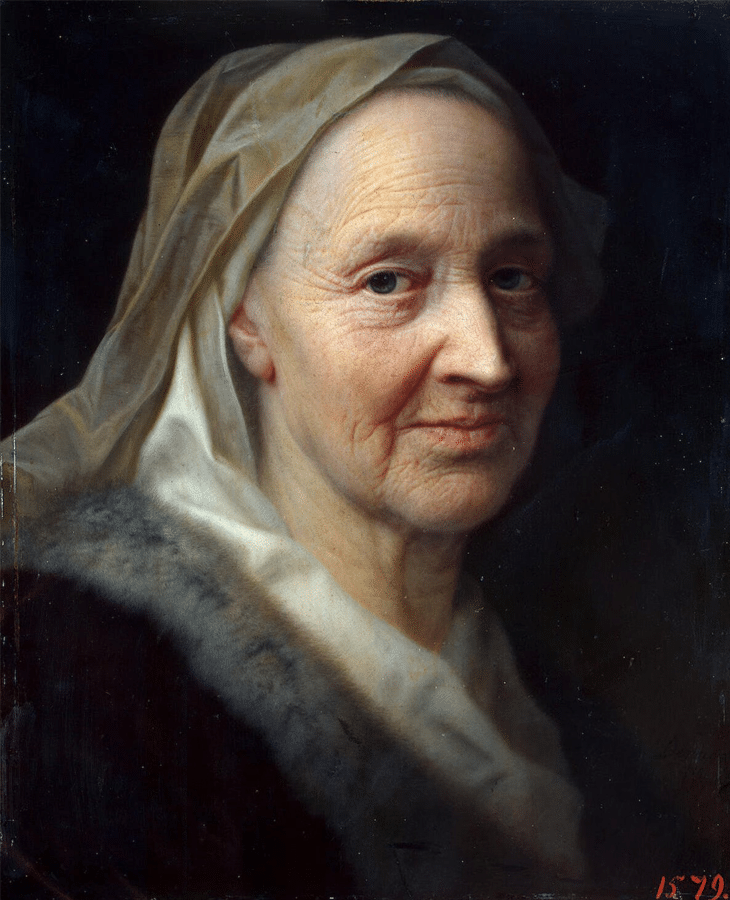 Portrait of an Old Woman
CSS Author
and
---
Jim Morrison. We see a soul, right? Or is that just an easy way of placing the image, even neutralizing it. We don't see the construction of a musician as fetish, gendered, isolated in studio space, the image selected - and ultimately to sell magazines and albums, but also as a face to connect with songs.
More innocent? More transparent?
When the image is an image of an image
https://c2.staticflickr.com/4/3154/3064670247_940be8faee.jpg
---