So here we are, with Valentine's Day almost upon us. For some of us Northern Minnesota cold and perhaps even lonely-hearted, this can only mean that it's time to start thinking about our summer vegetable, herb, and flower gardens – which might even include lofty ideas for an assortment of (what else but?) your very own homegrown roses!
Over the past several weeks, a lot of us have begun to see our annual seed catalogs showing up in our mailboxes. But if you're like me you probably haven't recovered yet from the bustle and activity of the fall garden harvest which seemingly overnight took you dashing headlong into the holiday season. If so, then it's possible that while still in a seasonal holidaze you simply tossed the latest wish-books into a holding bin or cabinet to look at later. Well, there's no better time than today to retrieve them from their temporary abode. So now, go ahead, grab a pen, a sketch-tablet, some post-it notes, and a big red box of heart-shaped bonbons. Find a quiet spot near a sunny window where you can glance out, look beyond the whiteness and imagine a gorgeous world of color instead. Then, start flipping through the dazzling selections of seeds and shrubbery. This year, be a little more brave: consider something entirely different. Go nuts. It's time to let your true passion run amok. And what better day than February 14 to start dreaming of the fragrant, sun-drenched days that lie ahead.
My own romantic garden dreams actually begin a little sooner than Valentine's Day. Generally, just about any time between the fourth and fifth January blizzard is when I start pining for my pruning shears and garden gloves. Like the sudden accumulation of billions of swirling white flakes settling into four-foot drifts outside my door, these annual dreams start to waft into my head after I've lifted enough snow from my walkways that by then it can only be measured in cubic yards. Blinded by whiteness with snow shovel frozen firmly to the fibers of my big wool mitten, the visions woo me with every color of the summertime rainbow spectrum (yes, except for white). Sometimes, while standing there, shocked, dumb, and dazed at my door's frost-framed window pane, with nose pressed dejectedly against the glass, I'll notice that my jaw has dropped, leaving my wide open mouth exposed to the frozen landscape beyond. And while I ready myself for the most recent avalanche waiting outside the door, I am overcome by a sort of comic strip thought bubble curiously emitting scents of lilacs, lilies, and lavender; so much that it's as if I can smell the fragrant perfumes of springtime in bloom. It seems to happen while I'm fastening the tassels of my odd looking Russian trooper hat, the one with the long fur flaps, which work amazingly well to muffle the sounds of my snow-pants swooshing as I move about the cloakroom in a sort of lurch and lumbering manner while trying to jamb my feet into the worn-out felt liners that have mysteriously managed to twist and ball themselves into impossible positions inside my equally worn-out Sorels. As I physically and emotionally ready myself for the umpteenth blast of bitter northerly air, I actually begin to see visions of clear walkways, blue skies, and green grass bordered by rows of delicate purple pansies with yellow faces smiling up toward the sun. I begin to imagine the phantom flavors of sweet basil and dill. Ah yes, I say to myself, they're sprouting from the sun-warmed soil held cupped in my hands right next to my heart. And although a mirage, it serves as my sanctuary: a virtual Eden in my own backyard.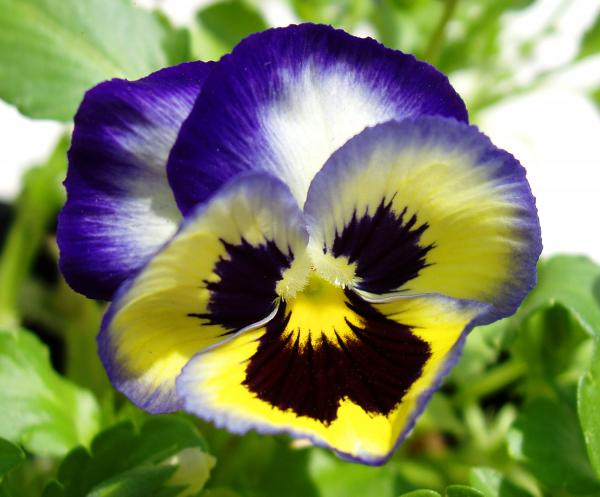 Gurney
http://www.gurneys.com/
:
I'm not at all an expert when it comes to gardening. In fact, I've relegated myself to permanent novice status because I'm never quite sure what to expect. One year, I got to thinking I would plant something in a 2 x 4 foot section of yard next to my garage. The shady little spot had otherwise sat bare and ignored for much too long - except for the crabgrass and occasional dandelion. But here, I thought, I'll plant a few carrot and beet seeds, maybe even some dill, and see what happens - especially seeing that I had recently learned the fine art of canning different types of pickles: mainly, beet and what my family refers to as, "hot carrots" - a non-Norwegian delicacy. The soil in this area of my yard seemed practically dead, however, so I mixed in some expensive black dirt I had bought at a nearby greenhouse. After toiling the two together, I then planted what amounted to a meager couple of rows of seeds. I then tidied and shored up the edges with some leftover sections of ornamental fencing from a flower bed I had earlier corralled in the front yard and waited for nature to do her thing. I figured I would soon be culling fresh veggies from the once barren ground and could hardly wait to pluck the first carrot. As the days of summer rather swiftly
Some of the best gardeners I know are men. My eighty-nine-year-old neighbor, Bob, who's hardly sentimental let alone romantic, while sitting in the shade of his perfectly manicured lilac bush, faces his tomatoes, cucumber, and pepper vines that happily bask in the sun, and whispers softly. He does this religiously throughout the garden season, when weather permits. The hearty vines of his tomato plants - which are more like the trunks of Aspen saplings - with their softball-sized fruit bursting from every direction but down, seem to give life to his own aged and deteriorated form. Bob doesn't have many if any niceties to offer to anyone or anything, except his garden. Early last fall, as the sun was beginning to set behind the forty foot church steeple to the west, I sat cleaning what amounted to seven or eight gallons of green and yellow beans which my dad had given me from his garden. Into what seemed like the third hour of happily snapping the meaty pods, I began to hear a high-pitched, craggly sound coming from direction of Bob's kitchen window. I realized then that he was bellowing like a baboon at his poor wife Opal, because she had gone out for dinner with her son and didn't bother to bring anything back for Bob. ...
My father, a half Norwegian half Swede, is, like Bob, a prolific gardener. But, even though he can grow a mammoth tomato vine, he's nowhere near as fickle, to where one would ever catch him whispering softly to the vine.
Potatoes
have become my dad's latest claim to fame. With three separate sections of his property reserved just for growing different varieties of the tuberous crop, late summer harvest time typically produces well over 800 pounds of the versatile garden vegetable.
Feeding Tips:
One word: Compost. It's easy to compost. Plus, the ingredients that you can use for composting are just about everywhere you look. Several years ago, when I first thought to recylce my household
putrescible
garbage A lot of gardeners find it convenient to use Miracle-Gro when feeding and watering their vegetable and flower gardens. It's easy and cheap. Products such as Miracle-Gro might be okay to use in your flower beds, but I wouldn't recommend using it in your vegetable and herb gardens. That's because the synthetic ingredients used in these types of fertilizers can, in the long run, be detrimental.
Suggestions for Small Space Gardens:
Fast! Garden Fresh Recipes:
The following recipe comes from the kitchen garden of my cousin Julie Thompson of Sacramento, California. Julie and her family are devout vegans, who stay away from pesticides and microwave ovens.
Tomato Basil Cream Pasta
1 Cup finely chopped onion
3 Cloves garlic, minced
2 Tbls olive oil
4 Cups vine ripened tomatoes, chopped
1/3 Cup finely chopped fresh basil
Freshly ground black pepper
Salt
1/2 Cup heavy cream
Grated parmesan cheese
1 #5 box angel hair pasta, cooked
Saute onion and garlic in olive oil until onion is soft. Add tomatoes, basil and pepper. Simmer over low heat 20 to 25 minutes, mostly covered to avoid complete water loss. Adjust salt at the end of cooking time and turn heat up to medium for a moment to add the cream. Stir until blended. Add pasta to sauce. Mix until pasta is coated with sauce. Sprinkle with garted Parmesan cheese, add ground pepper to taste, and serve.
...
Fresh Garden Pesto
3 cups packed fresh basil leaves
4 cloves garlic
3/4 cup grated Parmesan cheese
1/2 cup olive oil
1/4 cup pine nuts
1/2 cup chopped fresh parsley (optional)
Combine basil, garlic, Parmesan cheese, olive oil, and nuts in the bowl of a food processor or blender. Blend to a smooth paste. Add parsley if desired.