In the simplest sense of the word, a selfie is a photograph that one has taken of oneself, typically one taken with a smartphone or webcam and shared via social media.
---
Supposedly, Robert Cornelius, an American pioneer in photography, produced a photo of himself in 1839 which is also one of the the first photographs of a person. Because the process was slow, Cornelius was able to uncover the lens, run into the shot for a minute or more, and then replace the lens cap. He wrote on the back, "the first light picture ever taken. 1839."
Robert Cornelius, 1839
In the 1900's, the portable Kodak Brownie box camera made it's debut. This sequentially let to the photographic self-portraiture. The method was usually by mirror and stabilizing the camera either on a nearby object or on a tripod while framing via a viewfinder at the top of the box. Russian Grand Duchess Anastasia Nikolaevna, at the age of 13, was one of the first teenagers to take her own picture using a mirror to send to a friend in 1914. In a letter along with the photo, Nikolaevna wrote, "I took this picture of myself looking at the mirror. It was very hard as my hands were trembling."
Anastasia Nikolaevna, 1914
In the 1970's, the self-portraiture flourished when affordable instant cameras birthed a new medium of self-expression as amateurs were able to learn photography with immediate results.
The first use of the word "selfie" in any paper or electronic medium appeared in an Australian internet forum on September 13, 2002.
In late 2003, the Sony Ericsson Z1010 mobile phone was released, introducing the concept of a front-facing camera.
---
In 2012,
Time
Magazine considered selfie one of the "Top 10 Buzzwords" of that year. Although the term existed before, it was here where it really took off. The term selfie went on to be the Oxford Dictionaries' word of the year for 2013.
In the years since the term and action of taking selfies has exploded, they are seen not only on Facebook and Twitter, but in the news constantly as astronauts in Mars take them, celebrities share them, and terms like #selfiegame and #selfieolympics are spread throughout large events on social media. Ellen Degeneres' Oscar Selfie is the most retweeted image ever, banking in at well over 1 billion twitter reweets.
Ellen's Oscar Selfie, 2014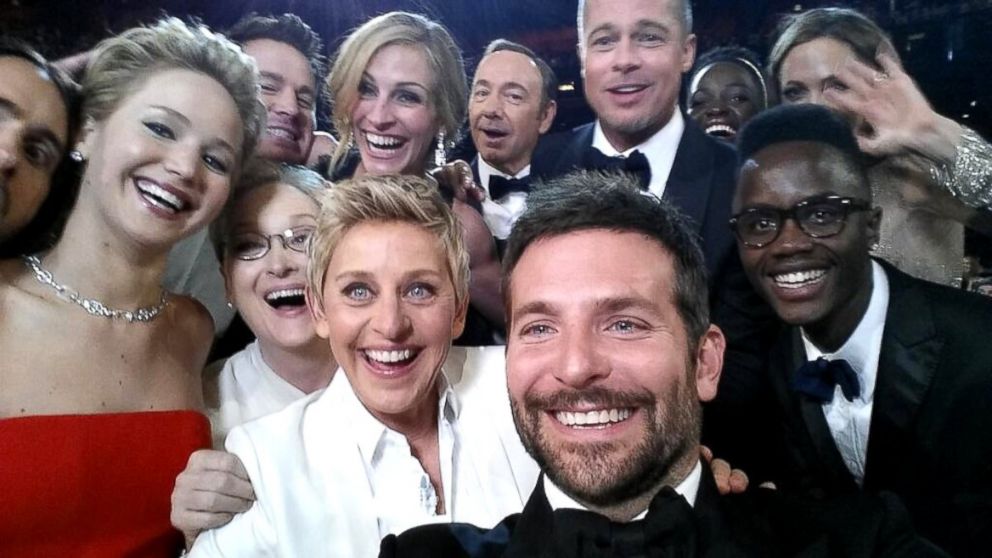 Selfies, however, haven't always been about good vibes and looking nice. In 2015, it was reported that more people had been killed taking selfies that year than by shark attacks. A year prior, in 2014, a man diagnosed with body dysmorphic disorder recounted spending ten hours a day attempting to take the "right" selfie--he then attempted suicide after failing to produce what he perceived to be the perfect selfie.
In 2014 a TV show titled "Selfie" lasted one season, a whopping 13 episodes staring Karen Gillan and John Cho. The show focused on a self-involved 20-something (Eliza) who is the subject of an embarrassing viral video. Eliza then enlists the help of a marketing exper to revamp her image in the real world. Also in 2014, The Chainsmokers released a song and music video titled "#Selfie." The song and video focus on two women who are going out to a club, but first need to take a selfie. The song includes the following lyrics:
The Chainsmokers
Can you guys help me pick a filter?
I don't know if I should go with XX Pro or Valencia
I wanna look tan
What should my caption be?
I want it to be clever
How about "Livin' with my bitches, hash tag LIVE"
I only got 10 likes in the last 5 minutes
Do you think I should take it down?
Let me take another selfie
---
In a 2014
video
, The Upside of Selfies: Social Media Isn't All Bad for Kids, on CNN, a 13-year-old girl, Amelia, attests the want to post selfies at such a young ago to wanting to be and look like a favorite celebrity or model.
"All the comments I see are really positive, like "you're so beautiful," Amelia's mother said of looking at her daughter's Instagram account. "It's not going to go away, it's going to be a bigger part of their lives."
"I think just as damaging as social media can be, it can help to build self-confidence too," said Amelia.
According to a report done in 2013 by the nonprofit child advocacy group, Common Sense Media, one in five teens said social media makes them feel more confident, compared with 4% who said it makes them feel less so. Later, in a survey of more than 1,000 13-17-year-olds about how they view their digital lives, 28% said social networking made them feel more outgoing and 29% said it made them feel less shy. When it comes to relationships, 52% of teens said social media has made them better.
---
The Upside of Selfies: Social Media Isn't All Bad for Kids
CNN
Kelly Wallace
October 7, 2014