The roll safe meme is a screenshot of a video of actor, Kayode Ewumi, smiling in the movie, "Hood Documentary". It was released on June 1st 2016 and this screenshot went viral of Ewumi pointing to his temple, smiling while portraying his "Hood Documentary" character, Reese Simpson, also known as Roll Safe.
The tone of this meme is funny in the sense that is sarcastic. You can tell from Ewumi's grin and body language that he is being sarcastic. Also, his direction of his eyes on the camera speak sarcasm as well. His eyes are almost rolled like he has an attitude. The cool thing about the Roll Safe meme is that if you watch the Hood Documentary, and watch this particular scene of Roll Safe, he isn't saying anything. He doesn't have a funny catch phrase or any phrase at all. He's silently grinning and pointing to his temple, leaving all the phrases and funny quotes up to the internet. The original documentary scene that got screenshotted gained over 1.04 million views and 1,300 comments.
On November 15th 2016, Footy Humor, an account on Twitter, tweeted out a screenshot of Ewumi pointing to his temple and smiling, with a caption above it that read "When you piss her off on purpose, so she can go to bed at 6pm and you can just play FIFA for the rest of the day in peace". It had over 18,000 retweets and 17,000 likes. The following week, twitter user
RyanWidowww
tweeted the image again with his own caption saying "You can't be broke if you don't check your bank account", garnering 74,000 likes and 47,000 retweets.
Participation: Roll Safe is participating in the meme by having a sarcastic attitude and causing people on the internet to contemplate things.
Keying: Smiling, grinning even at the beginning, followed by raised eyebrows, rolling of the eyes and a sarcastic finger pointed towards the temple.
Communication Function: Emotive. It portrays the emotion of sarcasm and attitude, it looks like he is almost rolling his eyes at the addressee.
This is a remake from the "Hood Documentary". There are no interpretations of this yet, as this is the founder image.
It is still the founder image, meaning that besides the frozen still from "Hood Documentary" there are no other features yet.
None yet.
The first image generated depicted someone purposely fighting with their girlfriend just so he could play FIFA, a video game, in peace. This was generated by twitter account, Footy Humor. It had over 18,000 retweets and 17,000 likes.
The tone of this image is very humorous and sarcastic. It is humorous because it almost plays on some fun pranking or trickery. The boyfriend is purposely fighting with his girlfriend just to have more time to play video games which is humorous in itself. It's also sarcastic because most people wouldn't purposely fight with their girlfriends just to gain more time to play video games. It's sarcastic also because it's almost like Roll Safe is pointing to his temple, as if he is on the brink of this great idea to piss off his girlfriend and play more FIFA.
This generated image from the Hood Documentary was probably easily made. Screenshotting is something you can do any smartphone or tablet. Computers can screenshot as well. I think adding a caption is something simple too, though it's possible the user still could have used something like Photoshop. This meme is something an everyday person could make because of the simple screenshot and small white caption. Part of the reason it resonates so well with people is because it is easy to read, understand and create different images within the meme. The simplicity almost in a way adds to the humor.
Participation: The participation has shifted from Roll Safe, the original character, to a generic, unnamed boyfriend who is desperate for some quality video game time.
Keying: Sarcasm, Mockery, Trickery. This image is now even more sarcastic than the original and is adding in some mockery of the girlfriend who believes she's in a fight, as well as trickery, as in the boyfriend pretending to be mad at the girlfriend so she will leave him alone for a few hours.
Register: Any boyfriends or girlfriends who want to be left alone to enjoy their hobbies.
Communication Function: Emotive, it plays on mockery and sarcasm big time. Feelings are hurt through the image, tricks/plans are executed and it really plays on people's emotions whether they are laughing at the addressee or feeling sorry for her.
I think this would be a remix because the screenshot or frozen still from the documentary, has now been transformed into a tweet form.
A feature would be social media. It has now taken on a social media platform and has increased popularity through twitter. It's also being taken into the universe of video games because of the FIFA reference. It has entered not only the twitter audience, but also the video game player audience.
I believe this would be considered a stock image macro, not much was done to change the original. All that was really changed was the platform it was presented on. We went from a documentary to a tweet. No need for photoshop or any sort of help through a meme generator.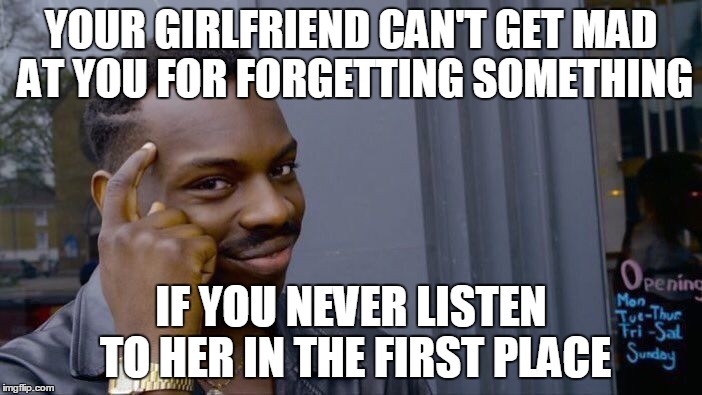 This meme is again about a relationship, this time saying that your girlfriend can't get mad at you for forgetting something if you never listened in the first place.
This image was found on the site, IMGFLIP. It was created around 7 months ago. It has 2,380 views. This specific meme, I think, is the most sarcastic of them all. It's almost like the ultimate diss to someone. It openly states that he never listens to his girlfriend, and the image of Roll Safe smiling ear to ear, with him pointing to his temple and rolling his eyes adds to the sarcasm. It's really relatable to anyone in a relationship that has trouble listening or remembering things.
This meme was generated a little bit differently, the caption was different. It was in bigger block letters, but still is very simple. I still believe this meme as well as the one prior, could be generated through apps on a smartphone or tablet, it seems very simple. The simplicity of the meme adds to the humor and sarcasm, it's almost like a last minute thing.
Participation: Again, a boyfriend or girlfriend is the participant. Roll Safe is still a symbol for sarcasm.
Keying: Humor, Sarcasm, Possible Anger. While this meme is hilarious it could also pose frustration for any girls or guys in the girlfriend's situation, some may see the boyfriend as being heartless or mean. It still provides a lot of sarcasm with a funnier, more relatable caption and overall humor.
Communication: Emotive, it provides a sarcastic stance on a common problem in relationship, not listening, but in a humorous and sarcastic way.
This is a remake of the original image. The image now has a border of writing both on the top and bottom of the photo.
The features for this meme include simplicity and humor. This meme is easy to read and easy to understand. It doesn't involve any outside sources like FIFA or another pop culture reference. It's light humor, making it easily understandable by anyone.
I think this would be a photo fad genre. It falls into the category of typical memes, like ones you would find in the "Know Your Meme" game. It's the classic white, bold lettering across the meme, most likely presented by using photoshop or some other sort of meme generator/creator.
The cool thing about this meme is that it's 2 famous memes interacting with one another. The "cash me outside" girl (Danielle Bregoli) from a viral Dr. Phil episode has become a daily meme to illustrate any sort of aggression or anger. It then combines with the sarcastic Roll Safe meme.
Here is the link to the viral clip of Danielle Bregoli -
https://www.youtube.com/watch?v=ZrtSOTGNqA8
This meme is even more humorous than the others because it combines one funny meme with another funny meme. It's almost like math for me, adding one funny meme to another funny meme results in a hilarious meme. Their facial expressions also add to the humor, Roll Safe is still doing his typical sassy, finger point and rolling eyes and the Danielle Bregoli (the cash me outside girl) looks like a teen girl with a bad attitude and her face almost looks scheming in a way. It's like our Roll Safe character has outwitted Danielle and will not be cashed outside because he never goes outside to begin with.
This meme appears to be from the website, dopl3r.com, a meme generator site. It doesn't list an author. Combines two extremely popular, viral memes. It almost looks like a screenshot or screengrab of something from Twitter because of the text font and white background, but I still could not find an original author through twitter.
Participation: Danielle Bregoli, Cash me Outside girl, and Roll Safe, and possibly twitter audience
Register: This speaks to an audience of internet users and a younger crowd. Possibly millennials because the Cash me outside girl is not known to an older crowd such as people like my parents or grandparents. But it is known by probably almost every college student at BSU.
Keying: Sarcasm, Clever, Funny. It's still sarcastic because you have two very sassy and sarcastic memes mashing together. I think almost every meme of Roll Safe will have some trace of sarcasm because that's the essence of Roll Safe. This is also a clever meme, it makes me think of Roll Safe scheming to stay inside in order to not be cashed outside. And of course, it's overall funny, it contains humor because of the two memes interacting with one another.
Communication Method: Emotive. It is emotive because it displays emotions of sarcasm, humor and overall cleverness. Their faces both look scheming, clever, and sarcastic. It is effective to see them blend together it brings immense sarcasm.
This is the most changed photo of this meme we have seen so far. It has gone from a snapshot or screenshot of a documentary to a tweet and now to meme referencing yet another meme. The user must have used some sort of photo editor help, as the top white section is the caption and the bottom is a photoshopped photo of Roll Safe with Danielle Bregoli.
The memetic features predominantly have to do with pop culture. Danielle Bregoli became an overnight hit and meme with her stunt on the Dr.Phil show. This meme has a lot to do with pop culture because it references both pop culture memes in one photo.
The top meme would be included in the genre of Reaction Photoshop because it was clearly editing by either Photoshop, or some other photo editing software. Some sort of editing software was necessary to put Roll Safe and Danielle Bregoli in the same space,they have never met before, so putting them in the same piece of work would require some editing skills.
Roll Safe has now been replaced by President Trump and is mocking Trump over the constitution.
This image has deviated a lot from the original. It's now an imitation of Roll Safe enacted by President Trump. Roll Safe is now involved in the political world. Trump, unknowingly, created the perfect facial expression to be duplicated into this meme. His finger is in the right position, almost identical to Roll Safe. This meme is funny but also oddly educational. It is talking about (I think, this may not be 100% accurate, as I am not good at understanding politics but I did look into what this meme meant and this is what I generated from my research) CREW (Citizens for Responsibility) is currently taking Trump to court for alleged violation of constitution amendments. Citizens for Responsibility and Ethics in Washington is a group suing Trump and argues that Trump is violating a constitutional amendment that a president may not accept any economic benefit from foreign governments or the United States government beyond a presidential salary.
This meme actually originated from a tweet from an unknown author but later gained attention and was posted to the New York Times, which is where I found it. The creator actually made a few Roll Safe Trump memes and some started calling them the 'Smart Trump' memes.
Participation: Roll Safe and President Trump
Keying: Sarcasm. This meme is very sarcastic, it's sarcastic in itself because of the caption and it's relevant to current news but it's also sarcastic and humorous, because Trump himself is humorous and known to be sarcastic.
Register: The audience is mostly geared for those who dislike Trump. People who like Trump find almost nothing wrong with him and support him through just about anything. I think this meme was more of a joke geared to the Democrats or Liberals, people who don't necessarily like Trump to begin with.
Communication Method: Referential because it refers to President Trump and the current political climate of our nation. It is about a current event and is bringing news to a meme, which is impressive in itself.
This would be considered a remix, Roll Safe has now been replaced by President Trump. The original image has now been transformed and edited.
This would be juxtaposition since the new image has been greatly altered and edited.
The genre is a reaction photoshop since the new image used a high understanding of how to work photoshop and created a humorous, photoshopped meme.
This is a play on both Roll Safe and the Shrek franchise/movies.
Roll Safe has now taken on the presence of Shrek using the song by
AllStar
by Smash Mouth, commonly related to the Shrek movie. The lyrics that are most common in the song are inserted in the caption while Shrek's ogre ears and green coloring are photoshopped onto Roll Safe's face.
Now photoshop is beginning to appear in Roll Safe memes. Whoever created this meme must have really enjoyed Roll Safe because photoshopping this image would require a lot of knowledge in Photoshop and a lot of skill. The photoshop is very neat, obviously green isn't a natural skin tone, but it looks almost natural and very blended. They must have had to use some layers to achieve this. It is also in a tweet form, you can tell by the white background and the font being used, it is most likely a screenshot of a tweet.
Participation: Shrek and Roll Safe
Keying: Humor and Mockery. This is humorous to anyone who has seen the Shrek movies and knows the beginning song. It is also presenting some mockery of Shrek himself and the movies themselves as well. It not only mocks the Shrek movies but also mocks Smashmouth.
Register: An audience that is both aware of the Roll Safe meme and the Shrek franchise.
Communication Method: Emotive and Referential, it brings up humor in people who understand the reference.