My name is Briana and I will be serving you today ;) I am a senior here at BSU and will be graduating in May with my BFA in Creative and Professional Writing and a minor in Visual Arts.
So welcome! …to the crazy land called Briana's Head. Yes, it is a land and it does exist, don't try to rain on my parade! I moved to Bemidji in January of 2004 to attend BSU. I started my aviary in 2006 and have been breeding birds ever since.
I was born in Fridley, MN, about 10 minutes north of Minneapolis (well, 5 if you drive like I do ). I am a typical suburbanite in that I love the city because I grew up there, but I need the grass and trees to keep me sane. I wish Bemidji was closer to the Twin Cities so I didn't have to move when I graduate. Once I am done here, that is it. I am gone from Bemidji, though of course I will visit my friends and the people I consider family. But I guess I don't know if I will go to the Twin Cities...you never know where the wind will take me. It was supposed to take me to California, but the winds suddenly stopped and I never moved from where I am now. Now the winds are calling me to go there once more, but who knows if I will listen...
I spend most of my time working, going to school, playing with the birds and pup, and sitting on the internet, surfing, along with designing my websites and working with clients concerning my business. I also enjoy sunsets, hot oil, vacuum attachments (if you don't know that movie, you should leave now...) and other things.
Dweezel and I
BareFoot Aviary Homepage
BareFoot Aviary Blog
The Feathered Wiki
brimonster111@barefootaviary.com
FinalPresentationBGB
PersuasiveTechBF
WordsInPrintBF
BalconyViewBF
DescriptionAndReflectionBF
Chapter4DescriptionBF
Chapter5AnalysisBF
http://heckledbyparrots.com/blog/
http://ngagnon.blogspot.com/
Sydney and I
Sydney and I again (doing his favorite thing- cuddling!)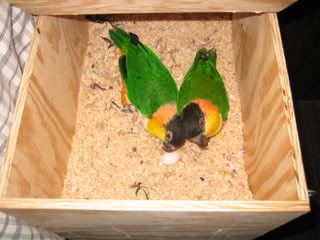 Dweezel and Zorro
The Caiques and I (Dweezel and Zorro)
Zorro, Dweezel, Sydney and I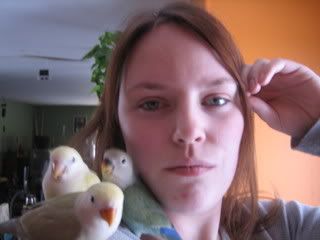 Some baby Lovebirds and I
Ein and I
The Caiques, top to bottom: Peregrine, Dweezel and Zorro (RIP Peregrine)
http://www.wedesoft.demon.co.uk/eliza/