My topic is on how social media is an outlet for teenagers and young adults with depression. I want to research both sides of this topic to find the information on whether it's a good or bad way to deal with depression, and look at various blogs as evidence to how people talk about depression online.
NadeauProjectProposal
In the twenty-first century, depression has become a less taboo topic to talk about, but it's still not something that is celebrated or talked about casually. Nowadays, we have the technology to converse online with people around the world, and talk to people anonymously. This has led to the topic of depression sprouting up online in good and bad ways. I wanted to find out if the experience I went through in high school as a depressed teen who was using social media to find myself again is a common occurrence and why it happened. I also wanted to research the good and bad links between depression and social media, finding out if this trend is a positive one for young adults and teens or not.
The goal of this project now is to go through articles and blogs and find the connection between social media and depression, through various subtopics.
"Online communities like those on Tumblr are perpetuating ideas of "beautiful suffering," confusing what it means to be clinically depressed." As a Tumblr user I have come across many blogs that perpetuate the idea that depression and self-harm are beautiful and should be adored. I highly disagree with that idea and with how that spread so far. The article Social Media is Redefining 'Depression' talks about a girl's experience as she fell into the fad on Tumblr.
There are Tumblr blogs that promote self-harm, eating disorders, and negativity that try to appeal to the people on the site with pictures and quotes that people find relatable, or that they find they desire they want to be like. Other bloggers will find these blogs and will convince themselves that this is what they need. The girl the article talks about wanted to relate to the pictures of the pretty and super skinny girls she say online. It's good that depression is being talked about, however the way it's being talked about by some online is not good.
There are over 140 million blogs on Tumblr alone, and all of those blogs have access to any content on the site. Young teens, teens as young as 12, have been proved to be on it because there isn't much security with age limits. So these young kids are all getting access to content that is perhaps above their understanding. The article pointed out that depression is something that was never talked about to something that people are talking about but aren't educated about very well. On a site like Tumblr, there is more opinion than there is fact.
This article talks a lot about the "Wannabe depressed" a term brought up by the girl who was interviewed for it. It explains that there are many blogs out there that picked up this theme of sadness and ran with it to invoke feelings in others. This paragraph from the article sums it up really well:

"This online cultivation of beautiful sadness is easy to join: anyone can take a picture, turn it black and white, pair it with a quote about misunderstood turmoil, and automatically be gratified with compassion and pity. And this readily accessible sea of dark poetry could easily drown out those whose suffering has reached the clinical level. During the vulnerable years during which adolescents seek out self-affirmation and recognition from others, this new, easy promise of being recognized as strong, beautiful, and mysterious by Tumblr "followers" can be very tempting, says Dr. Mark Reinecke, chief psychologist at Northwestern Memorial Hospital.

Too often, it just leads to more teenagers believing and feeling they are depressed, self-pitying, self-harming. "When you look at secular trends and epidemiological research completed over the last several decades, there seems to be a slow and fairly consistent increase in levels of depression for each succeeding generation of teenagers," says Reinecke"

Tumblr isn't the only blogging site used for this, but it's one that I use and see a lot of that kind of depressive content on. The content on Tumblr can be quotes, pictures, videos, or gifs, so there's a lot of ways to make content that exhibits negative thoughts. It's easy to avoid that content, though, if you unfollow the blogs posting it and distance yourself from the negativity. Another cool aspect Tumblr now has is if you search on Tumblr with the word "depression" a message pops up saying that if you or a friend has thoughts of harming yourself or are harming yourself somehow, then you're encouraged to contact Tumblr's Counseling Resources page. If this is helpful to some or not, I am not sure.
The article goes on to talk about how the socialization of young teens is different depending on gender, and how there are many more teen girls dealing with depression than teen boys statistically. I wonder if it's because social media sites can be gender stereotyped, and the sites that have this sort of cultivation of blogs is on sites that teen girls use more than teen boys.
Link from source
here
.
After digging into the article last week that I talked about above, I decided to dive into research of blogs and blog posts that talk about this issue, or prove it. I came across a blog post titled "On Tumblr's Romanticization of Depression" by a blogger named Sarah Sloan Macleod. You can find it
here
.
The author talks about her own depression and anxiety and how she is trying to get through them, but isn't afraid to talk about it either. She says that depression "runs rampant" on "soft-grunge" blogs that promote it almost like it's an aesthetic. She adds in photos that show case what kind of attitude this blogs promote, and it is not a healthy one. I've included just one of the images she found below.
As you can see, this picture she found promotes the negative idea that you're dying a little bit every minute, tying it in with cigarettes which is a whole other issue than depression (addiction). Sarah talks about how she looked into this side of Tumblr and mentioned that it made her sick to see some of the posts. I wanted to find out what she saw, so I looked on Tumblr with keywords like "soft grunge", "sad girl", and "depression". One thing I'd like to point out is that Tumblr does have the feature I mentioned above.
So when you search on Tumblr with the word "depression" a message does indeed pop up that says:
Everything okay?
If you or someone you know are experiencing any type of crisis, please know there are people who care about you and are here to help. Consider chatting confidentially with a volunteer trained in crisis intervention at www.imalive.org, or anonymously with a trained active listener from 7 Cups of Tea.
It might also be nice to fill your dash with inspirational and supportive posts from TWLOHA, Half of Us, the Lifeline, and Love Is Respect.

At the end of the message you can choose to go back or see the contact with the tag "depression." I thought that it was a great thing to see, especially since when I clicked to check out what kind of content there was, I was upset to see what people have put up. While there were some positive messages and content, the majority of it promoted negative thoughts and behaviors. The blogs I looked at were hard to scroll through. There's no way that the content on some of the blogs I saw are doing anything but damage.
Sarah went on to talk about how people on Tumblr need to stop enabling others to do harm to themselves, because she knows that no good can come from it from her own personal experience. While her post was brutal about some of the topic, her blog post and message was a good little talk about the subject.
A big part of this research project is digging into the health perspective of social media and its ties to depression. I looked at a couple articles that talk about this connection that I thought brought up good information on the topic. I know that any site online that is related to health should be taken with a gran of salt, because it;s not direct from a doctor who has spent years on the subject. And dot com sites should definitely not be taken as straight facts, but these articles I think have good information as this isn't a topic that has been looked at a lot.
The first article I read was
Social Media and Depression
by Kathleen Hall. The author pulled information from other dot org sites, so I feel like it's a little more reputable, and it's definitely not just opinion. Hall says that there is a direct correlation between teens that are addicted to social media, due to a survey that was taken by teenage kids. The kids that admitted to having an online media addiction tended to have some level of depression. It's something that teenagers are now born with though, so they've been raised to plug in online to communicate easily with friends and peers.
Researchers and scientists believe that there is this connection between the two because teens are now going online for socialization instead of having more face to face interaction, and that doing this late at night affects their sleep so much that it affects other aspects, too. The author also goes on to talk about social media as a positive thing for "senior citizens." She says that the interaction online for them actually helps their depression from not having enough face to face interactions.
The second article I looked at this week is called What's social media depression--and might I have it? by Marianne Spoon. I felt like her intro paragraph was really well written and sums up what this project is about:
"In a world where social media Web sites spread news of engagements and breakups, job gains and losses, or even news of life and death, it's easy to become overwhelmed. Web sites such as Facebook help you keep up with friends and family, but you're realizing how easy it is to get sucked into the whirlwind of updates and data. We now live during a time when you can follow your pal's every move on his latest beach trip -- even if the only surfing you're doing is on the Web. Let's face it: Using social media can stir up many emotions, including sadness."

The term "social media depression" has been coined, according to Spoon, to refer to when a person has depressive thoughts while using social media. But even though this term has been created, it hasn't become a part of the official reference that's used by psychiatrists. But even thought it isn't accepted into that reference doesn't mean there that isn't statistics and people that prove it's true.
But the health professionals do realize how much social media has an effect on teens, says Spoon. The author also points out that it's women who are more affected from this kind of depression, and then asks the readers if they "but into it". I don't think this is something you buy into or not, it's out there, and people that have the power to help should do what they can to help teens and young adults work through this kind of depression.
I wanted to find correlations between bullying online and suicidal thoughts or ideations. I found an article on live.science.com that linked me to another that was a better start to this conversation. In the article that was linked, called
Bullying Linked to Suicidal Behavior in Adolescents
, that talks about the connection between cyber-bullying and suicide.
The author, Agata Blaszczak-Boxe, talks about a medical journals report that kids and teens that are bullied are twice more likely to commit suicide than ones that haven't been bullied, and that includes cyber-bullying. "Notably, cyberbullying was even more strongly correlated with suicidal thoughts than traditional (in-person) bullying, the researchers said."
About twenty percent of young adults and teens are involved in bullying, either the bully or the one that is getting bullied. That's one in five, which actually seems low to me. The author goes on to give the facts from the medical journal, and ask the question of why cyber-bullying has a bigger impact on students, which the journal had only this to say:
"This may be because victims of cyberbullying feel denigrated before a wider audience, or because the event is stored on the Internet, they may relive denigrating experiences more often."

And then adding that further research about this is needed, which I agree. So then I went on to my original article, titled
Cyberbullying on Social Media Linked to Teen Depression
by Stephanie Pappas. This article was published a year or so after the first one, and goes on to talk about cyber-bullying in more depth.
Pappas talks about how bullying that is done face-to-face can actually double the risk of depression for people when they reach adulthood, and she says that studies show that sometimes the effects of bullying have had a worse impact than child abuse. The author also goes on to talk about the bullies that are also bullied.
"Two studies examined the prevalence of so-called "bully-victims," meaning teens who both bully others and are bullied. Research on offline bullying shows these kids to be most at-risk for mental health problems. One study found that 5.4 percent of teens were bully-victims, while the other reported a prevalence of 11.2 percent."

Pappas goes on to talk about the link that may be there between cyber-bullying and depression. She says that she sees one, but researchers who have done studies don't think that the link exists all the time. But the two go hand in hand, according to another journal the author writes about. "The research also found that the more cyberbullying a teen experienced, the more severe his or her symptoms of depression."
She also notes that many teens and young adults choose to suffer in silence, instead of telling someone that they're being bullied. So it's up to people to promote the end of cyber-bullying for it to really stop. Otherwise the bullies will continue what they're doing and teens and young adults will have effects in the future from it.
As I wrap up my readings of online articles, I think it's important to share what CNN reported online about teens and disorders:
"A national survey of over 10,000 adolescents showed that almost 1 in 3 teens met criteria for an anxiety disorder. Severe anxiety, including panic disorders, generalized anxiety disorder, post-traumatic stress disorder and phobias, afflicts 8.3% of all the teens."

I think that these numbers are pretty high, but since it comes from a survey then there has to be truth behind it. One in three seems really high to me. I don't remember seeing that many teenagers in my grade during high school show these disorders, I just thought ZI was alone in it. And because of that feeling I think I felt so isolated from others that I closed myself off.
The article by CNN called
Teen depression and how social media can help or hurt
by Dr. Melinda Ring shares a lot more facts about the statistics and numbers of teenagers with depression and disorders and teen suicide. The author also talks about her personal experience as a mother with a teenager struggling with these kinds of issues, and how social media was a way for her son to work through his disorder and help others online by blogging and vlogging positive messages.
Dr. Ring talks about Tumblr and their pop-up message when a user searches with the tag "depression", which I have covered before, and thinks that it's a positive thing as well because it shows support for people struggling. Dr. Ring thinks that an "overuse of social media can become a negative, associated with increased depression and low body image issues." She writes that social media is an embedded part of teen's lives now, and that parents need to be aware, involved, and make sure that they're watching out for their kids. I think that's a positive message, but I hope that it doesn't backfire for parents that take it too far and distance their teen from them.
*
My last online article is posted by Dr. Tim Antiss, on theguardian.com, and it's called
How social media is supporting people with depression
. I read the article and found myself disagreeing with the man on something. Dr. Antiss think that discussion about depression on Facebook and Twitter lead more to misinformation shared than any good, but I think it's good that people feel comfortable to talk about these kind of issues. If the idea that mental illnesses are something to keep hidden, then it's stigma that they've been given are never going to change.
Despite that disagreement, I did agree with a lot of what he said in the article. He promotes the use of online communities to talk about depression, because he thinks that they do more good than psychiatrists are at this point. He talks about one such community, called Black Dog Tribe, and it's co-founder, Ruby Wax. She's the woman in the photograph at the start of the article.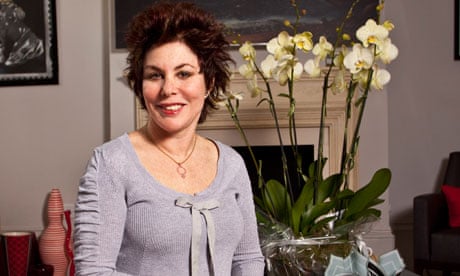 Above is Ruby Wax. Dr. Antiss gave the link for the website, but the link no longer works as this was written in 2012. But if you Google Black Dog Tribe you can find the social media sites for it.
Dr. Antiss writes that online communities give a network of support to people, and says that this is vital to people that experience the feelings of isolation with their mental illnesses, which I definitely understand from my own personal experience. The last part of the article I thought was pretty great, considering that Dr. Antiss is a medical doctor.
"There is so much bullshit out there about mental health and mental illness, I suspect people are ready for an accessible and helpful resource where they can share experiences, concerns and feelings, learn about new things and explore issues without feeling judged or told what to do.

Psychiatry hasn't had the impact it thinks it has and we really do need to find a better way to heal troubled souls."

As he is a doctor that health and well being improvement, it's great that he sees the issue for what it is and is an advocate for finding other methods to help people with working through their mental illnesses in a positive way.
Taking my research to a more scholarly search, I read the article
Media Multitasking Is Associated with Symptoms of Depression and Social Anxiety
by Mark W. Becker, Ph.D, Reem Alzahabi, B.S, and Christopher J. Hopwood, Ph.D. Here is the journal's abstract:
We investigated whether multitasking with media was a unique predictor of depression and social anxiety symptoms.
Participants (N= 318) completed measures of their media use, personality characteristics, depression, and social
anxiety. Regression analyses revealed that increased media multitasking was associated with higher depression and
social anxiety symptoms, even after controlling for overall media use and the personality traits of neuroticism and
extraversion. The unique association between media multitasking and these measures of psychosocial dysfunction
suggests that the growing trend of multitasking with media may represent a unique risk factor for mental health
problems related to mood and anxiety. Further, the results strongly suggest that future research investigating the
impact of media use on mental health needs to consider the role that multitasking with media plays in the relationship.

The researches/authors noted that they became aware of the fear of media replacing face to face interactions that would hurt how people socialize. They also note that earlier studies showed a link between "heavy media use and mental health problems." (page 132) Which, they say, is a valid concern because the amount of youth in America that multi-tasks with media has gone up over 119 percent in the past 10 years. I think that this is more due to the fact that it's a lot easier to have access to the internet and online media now than it was 10 years ago.
However, the researchers/authors note that "Recent reports suggest that media multitasking may be uniquely associated with deficits in basic cognitive processes such as the ability to successfully filter out irrelevant information and ignore distraction. Further, this type of poor attentional control has been suggested to maintain and perhaps cause depression and anxiety." (page 132) So further research was definitely needed.
They decided to research aspects of media use with people that had either depression and/or social anxiety because they are two of the most common mental disorders people have. Their method of research was online surveys done by 319 college undergraduates, of which 222 were female.
The table above is the list of surveys done, and their results. SPIN stands for social phobia inventory and PHQ stands for patient health questionnaire, and the Neuroticism and Extraversion were measured with the big five inventory (BFI). "Table 1 presents the descriptive statistics for our personality survey measures." (page 133)
Below is Table 2 which "presents the correlation matrix between [their] measures." (page 133)
What this means is that there's a very significant link between media multitasking and depression and social anxiety. They conducted two more analyses to look at the SPIN and the PHQ, and their results in that analyses is in Table 3, pictured below.
Honestly, a lot of this science, math, and research confuses me, but I can understand it enough to know that media multi-tasking and depression/social anxiety, and the more introverted, the more these came out. The researchers/authors say that "overall media use suggests that the multitasking aspect of media use is a unique risk factor for psychological dysfunction." (page 134) And they think it's important to find out how people are using media and engaging on it to understand more, and for future researchers to find out if the media use is a cause of the depression and/or social anxiety or not. Their ending note was:
"Given the rapid increase in media multitasking, understanding the source of the behavior's relationship to depression and social anxiety is timely and may have important implications for understanding how to minimize the negative impacts of increased media use."

I think it's really important for them and other researchers to keep going with this field of study to figure things out before the habits of media multi-tasking are passed through more generations. That way we know what we're getting ourselves into mental health-wise.
Another journal article I found about social media and depression is one written by three researchers who wanted to see if they could use a series of analyses to figure out if a Twitter user displayed depressive language on their Twitter account, and their methods actually turned up some interesting things.
Munmun De Choudhury, Scott Counts, and Eric Horvitz are the researchers and authors of the journal article titled
Social Media as a Measurement Tool of Depression in Populations
. You can find the journal article through
this link
. These researchers understand how debilitating depression can be, and wanted to come up with a way to glean information out of social media to understand depression online, and how it affects people using sites like Twitter.
The abstract from the journal article sums up what they were trying to do better than I can:
"Depression is a serious and widespread public health challenge. We examine the potential for leveraging social media postings as a new type of lens in understanding depression in populations. Information gleaned from social media bears potential to complement traditional survey techniques in its ability to provide finer grained measurements over time while radically expanding population sample sizes. We present work on using a crowdsourcing methodology to build a large corpus of postings on Twitter that have been shared by individuals diagnosed with clinical depression. Next, we develop a probabilistic model trained on this corpus to determine if posts could indicate depression. The model leverages signals of social activity, emotion, and language manifested on Twitter. Using the model, we introduce a social media depression index that may serve to characterize levels of depression in populations. Geographical, demographic and seasonal patterns of depression given by the measure confirm psychiatric findings and correlate highly with depression statistics reported by the Centers for Disease Control and Prevention (CDC)."

The introduction of their paper starts with facts about depression, and how depression actually affects more than 27 million Americans, and how each year about 30, 000 of those people take their lives. Depression, they point out, affects a lot of aspects of a person's life. A person with depression might even experience "chronic health conditions" like cancer, diabetes, obesity, and heart disease.
But besides affecting a person's health, depression can affect the whole wheel of wellness a person has: mental, physical, spiritual, emotional, and social. The authors point out that depression has been known to cause negative influence on a person's relationships with friends, family, and loved ones, and it can affect the way they sleep and eat, and even their work and school lives.
It's a very difficult disease, depression. In the next twenty years, depression is going to become the number one disability for Americans, says the authors. And the World Health Organization (WHO) states depression as one of the most "burdensome diseases" in the world. Because of all this, the researchers/authors wanted to create a way to measure depression on social media.
They understand that Twitter and Facebook have become major means for people to share things either anonymously or publicly, and that people with depression usually avoid social situations in person. By going online and having people take their survey and by analyzing their Tweets, they are able to use social media as a way for people to feel comfortable sharing.
Their main contributions, they say, in their paper are listed below:
"Using crowdsourcing techniques, we gather a ground truth set of 69K Twitter postings shared by individuals suffering from clinical depression—depression was measured using the CES-D (Center for Epidemiologic Studies Depression Scale) screening test [22]."
"We develop statistical models (an SVM classifier) that can predict whether or not a Twitter post in a test set could be depression-indicative. To construct and test the predictive models, we harness evidence from a variety of measures, spanning emotional expression, linguistic style, user engagement, and egocentric social network properties. We demonstrate that our models can predict if a post is depression-indicative, with accuracy of more than 70% and precision of 0.82."
"Finally we propose a metric we refer to as the social media depression index (SMDI). SMDI uses the above prediction models to determine depressive-indicative postings on Twitter, and thereby helps characterize the levels of depression in populations. We conduct a variety of analyses at population scale, examining depression levels (as given by SMDI) across geography (US cities and states), demographics (gender), and time, including diurnal and seasonal patterns. Our findings from these analyses align with CDC reported statistics of depression in US population, as well as confirm known characteristics of depression given in clinical literature."
"We believe that, when tied to behavioral health records from agencies, information derived from our prediction models and analyses can be valuable to epidemiologists who study macro-trends of individuals suffering from depression or other types of mental health disorders."
So these researchers put together a survey and asked people online to take it and then the people that took the survey were asked if they would let their Twitter be used for analyses. Out of the 1,583 people taht took their survey, only 489 were comfortable sharing their Twitter. Then, once they had that permission, the researchers looked for "cues and signals" that would reflect someone's mental condition, and then those type of posts would be able to help them look for other posts that are "depressive-indicative" for their classification.
Below is a table included in the journal article that classifies the users that gave consent for their Twitter to be used:
Some of the "depressive-indicative posts" they used to classify if a person has depression are listed in this table below:
They went on to describe the features of how they were ale to make these classifications. They set up a scale to analyze Tweets, using these features:
"Emotion. We consider four features of the emotional state manifested in the posts: positive affect (PA), negative affect (NA), activation, and dominance."
"Time. We define a measure that uses the timestamp information of a post, that is, whether it was a day time or night time post."
"Linguistic Style. We also introduce features to characterize posts based on the use of linguistic styles."
"Engagement. We utilize a set of engagement measures of the authors of posts in order to characterize the general behavior associated with them—we believe users found to be clinically depressed (or not) will bear distinctive behavioral markers in their postings."
"Ego-network. We define two features that characterize a post author's egocentric social network: (1) the number of followers or inlinks of the user, (2) the count of her followees or outlinks."
They used these five features to analyze differences on Tweets by many users. And key words that they found were indicative of whether a Twitter user had depression are listed in this table below:
They asked the question, "Can the ability to predict whether or not a Twitter post is depression-indicative provide the basis for an accurate, reliable model of real-world depression rates in large populations?" And then answered it by saying that they use their metric model to analyze Twitter users, after they found trends. They call this metric the Social Media Depression Index, or SMDI. And this measures "the degree of depression" in daily posts by Twitter users, because with it they can analyze the difference between depressive-indicative and non-depressive-indicative posts. The metric they use is listed below:
They used their data to go on and analyze Twitter users in different cities around the Untied States, and then analyzed the difference between male and female Twitter users and depressive-indicative posts. While they have been able to analyze and classify behavioral markers of depression through social media, and look at this large-scale over the Untied States, they understand that there are limitations to using just Twitter for this, and no outside sources.
In conclusion, they write:
"Mining and analysis of social media activity in order to understand a variety of public health phenomena has been gaining considerable traction recently among researchers...Modeling the contagion of depressive disorders in social media is also an exciting future direction."

But I think what they have been able to do and find could be a great tool in helping people in the future. I'm surprised that this journal article hasn't gotten more publicity since it was done in 2013. I wonder what their research has been able to do for people with depression so far, as well as if depression is going to escalate in the next 20 years what kinds of ways we can use this to do more for people.
I found this article and thought that it would be a good one to end the research on, since it's about depression and media usage. The article title is
The Relationship Between Self-report of Depression and Media Usage
and it was written in 2014 by a whole team of people I'll list below:
Martin Block 1,2*†
Daniel B. Stern 2,3†
Kalyan Raman 1,2‡
Sang Lee 2,4‡
Jim Carey 1,2‡
Ashlee A. Humphreys 1,2‡
Frank Mulhern 1,2‡
Bobby Calder 2,5‡
Don Schultz 1,2‡
Charles N. Rudick 2,6†
Anne J. Blood 2,4,7†
Hans C. Breiter 2,3,4,7†
Below is the list that denotes where they work:
1 Medill Integrated Marketing Communications, Northwestern University, Evanston, IL, USA
2 Applied Neuromarketing Consortium, Medill, Kellogg, and Feinberg Schools, Northwestern University, Evanston, IL, USA
3 Department of Psychiatry and Behavioral Science, Warren Wright Adolescent Center, Northwestern University Feinberg School of Medicine, Chicago, IL, USA
4 Laboratory of Neuroimaging and Genetics, Department of Psychiatry, Massachusetts General Hospital, Boston, MA, USA
5 Department of Marketing, Kellogg School of Management, Northwestern University, Evanston, IL, USA
6 Department of Urology, Northwestern University Feinberg School of Medicine, Chicago, IL, USA
7 Mood and Motor Control Laboratory, Department of Psychiatry, Massachusetts General Hospital, Boston, MA, USA
I thought that this was important to include, because a topic like this is obviously getting the attention and research it needs. You can find the article
here
as well.
In earlier research I've read and made notes on, there is evidence that there is a link between depression and social media usage, and the people that wrote this article realized that and wanted to look deeper in self-reported people with depression and their connection with social media. They did a study on it with data they collected with the Media Behavior and Influence Study and looked at demographic variables as well. What they found is that there is a connection, "those who tended to use more media also tended to be more depressed."
"This study found that those who have suffered either economic or physical life setbacks are orders of magnitude more likely to be depressed, even without disproportionately high levels of media use. However, among those that have suffered major life setbacks, high media users—particularly television watchers—were even more likely to report experiencing depression, which suggests that these effects were not just due to individuals having more time for media consumption."

They mention in their introduction how the research and material on the relationship between depression and social media use is growing, and how there's definitely still two sides to this argument that they affect each other. Below are a list of what some studies found:
There was a correlation found in a study done in 2012 between internet addiction and depression in college students, (Orsal et al., 2012).
Another study found out that adults with depression/depressive disorder spent a lot of time on the computer, and other adults with dysthymia, panic disorder, and agoraphobia spent a large amount of time watching television, (de Wit et al., 2011).
A study found no relationship between adults who had depression and used social network, (Jelenchick et al., 2013),
Some other studies did find correlations between teens using Facebook and social media that had a positive effect on their depressive behavior/disorders, (Pantic et al., 2012).
And another study found that young adults who use Facebook and have depressive behavior, (Kross et al., 2013).
I'm surprised to hear about a lot of these studies, since my research a few months ago didn't give me this much material to work with.
The difference with this study is that they surveyed people that self-reported their depression, and had a huge amount of people for the survey, and they also looked at multiple domains of media use by these people. The survey they used, Media Behavior and Influence Study (MBIS), is "a syndicated online study" and they had only people ages 18 and up take it. So this research deals more with young adults than it does teenagers, but I still think that this is important to look at.
Things that they were interested in looking at included: "depression by gender, age, employment status, marital status, race and ethnicity, income, education, measures of isolation, and internet, TV and social media use." And they performed three different data analyses with this study: a descriptive statistical analysis, the CHAID tree analysis, and a multivariate discriminate analysis. These analysis' helped to understand factors that indicated depression.
The results of the descriptive analysis found that depression has increased about 1% from 2009 to 2012, and it shows where self-reported depression rates the highest in the United States. I've included their graphs/pictures below.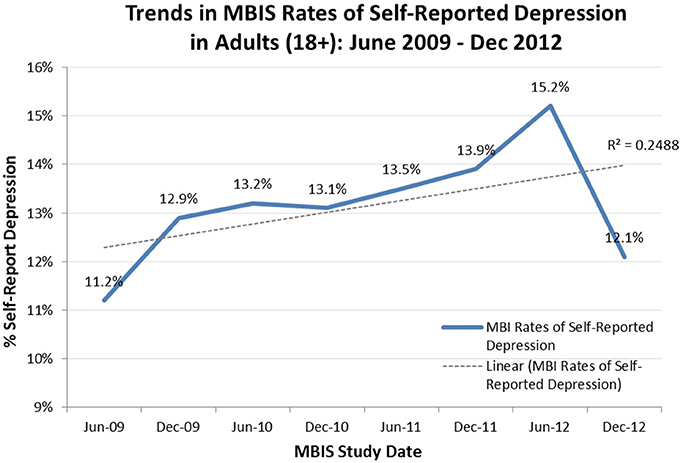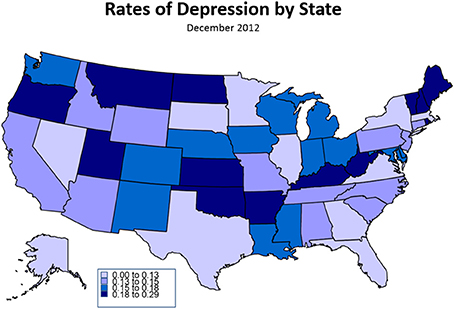 The descriptive analysis also found out information about the relationship between gender and depression and other demographic information, and below is the table with that data:

The CHAID Tree analysis' were used "To better understand how multiple variables for media consumption and other demographics/activities related to SRD." Below, this CHAID Tree shows the links between depression and adults' jobs and their education: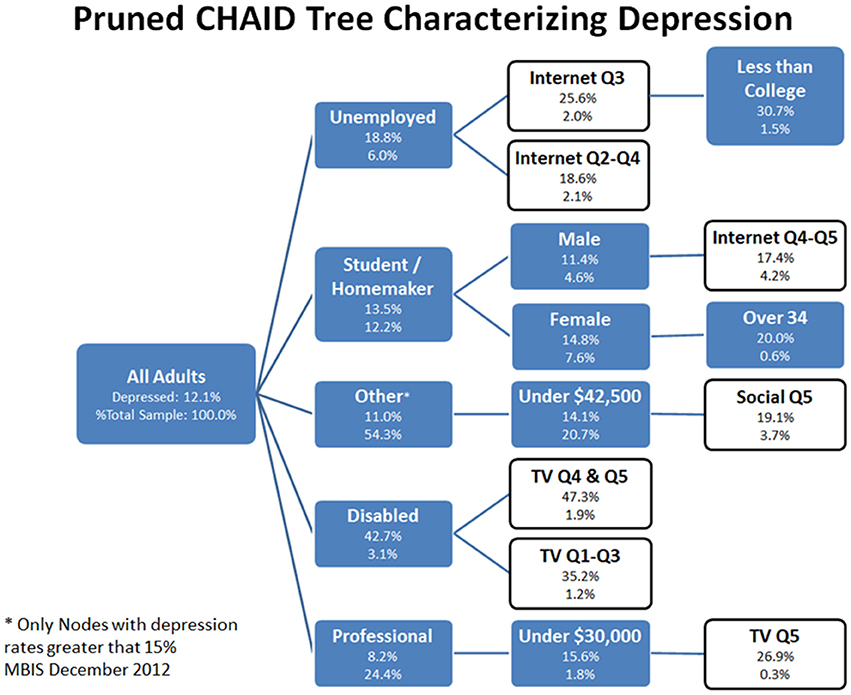 The figure above is explained by the writers, who say that "factors such as disability, unemployment and lower incomes were associated with higher rates" of self-reported depression. And "media consumption tended to significantly leverage the rate attributable to these characteristics."
The next CHAID Tree shows the relationship between adults without depression and their jobs and education: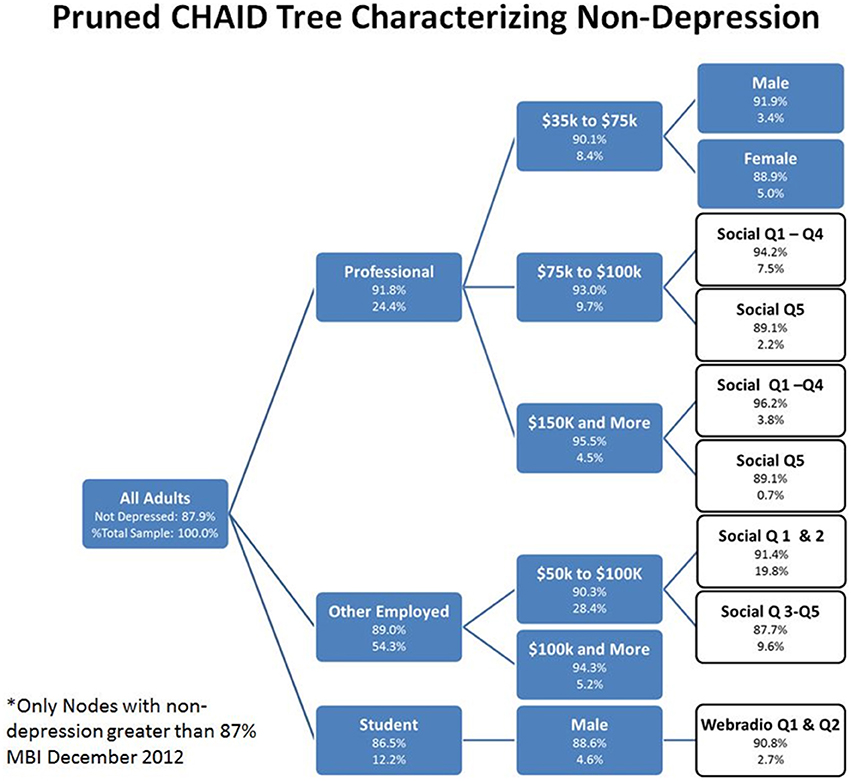 This CHAID Tree, they explain, that "being a student or employed with a high income were most closely associated with not being depressed, particularly when combined with varying levels of social media use."
In the discriminant analysis they found that the best indicators of depression were increased use of television, the internet, and social media, which proves that the relationship between media and depression is real, it's just different for different people with depression.
The main thing they say they were able to find with this study was that people who tend to use more amounts of media in many forms also tend to have more self-reports of depression. They also found out with their CHAID Tree analysis' that people who have had more economic problems and less education tend to be more depressed, too. They believe that this is due to having a "lack of control" over their lives, because they lack financial aid in life.
I think a major thing my generation is adjusting to/having to deal with is the fact that minimum wage now longer is good enough to get by on, and college is very expensive and loans are difficult. To me, this is a big factor in the rates of depression, because personally this is a huge issue for myself and my depression, and I know it's a huge stress to almost every single college student I know. If social media is helping them like it does for me, then great. But if it doesn't then we need to figure out a way to help people.
Their last statement is:
"In summary, the data reveal that there is a consistent pattern of results that link self-reported depression with increased media use, even when taking into account other variables, such as disability and unemployment. This media use was focused more on internet use and TV exposure, for those making self-reports of depression. The rate of SRD was between two standard indices used in published reports of clinically diagnosed major depression, namely the lifetime prevalence, and recent 12 month incidence of major depression. These observations suggest the current findings with big data may have relevance to the literature focused on the clinical diagnosis of depression."

danah boyd is a Principal Researcher at Microsoft Research, and the founder of
Data & Society
, which is an institute that looks into social and cultural issues that come from technological advancement. She also works for Harvard University and New York University. She has a big interest in youth and social media, and began looking into this in the early 2000s. Boyd has written a LOT about this topic and others.
This is a link
to a list of what she's written, because she deserves some recognition for it.
Below is a photo of her:
In a paper called
Making Sense of Teen Life: Strategies for Capturing Ethnographic Data in a Networked Era
, boyd writes about a project where she interviewed students about their media use, because she genuinely wanted to figure out the relationship between technology and teenagers everyday lives.
boyd writes about the components of this research:
"My ethnographic study of teens' engagement with social media has had four discrete components: 1) teen pop culture and subculture immersion; 2) participant-observation and content analysis of teens' online traces on social media sites; 3) participant observation and "deep hanging out" in physical spaces where teens gather; and 4) semi structured face-to-face ethnographic interviews."
boyd even looked into the references that teenagers made in interviews, to better understand them, and looked into other media that is known to be popular with teenagers. She immersed herself online in communities and websites that teenagers like to use to see what they see.
Honestly, her research methods are pretty awesome. She didn't just look at statistics with surveys, she dug deeper. Her
Twitter
is pretty great to read through as well, since she's an LGBTQIA+ supporter, and a total nerd. She's a great advocate to have for teenagers with her research, and I'm excited to read more that she's written and follow her Twitter.
The whole reason for this project was to look deeper into the connection between social media and depression. It was sort of a personal mission to find out the research about it, because as a teenager I used social media sites, like Tumblr, while I was dealing with depression. I didn't know how much it would help me when I made my first blog, but social media became a way for me to feel like things were going to get better. I felt that way because I met people online who were going through similar issues as mine and were doing okay.
Besides meeting inspiring people and making friends online, social media was a great way for me to explore things online about myself. I found out a lot about myself during the last few years of my teenage life through social media, because it was a great way for me to find the answers I wanted.
As some of the research I read through and wrote on points on, social media has been known to have a positive influence on teens with depression, and for me it was as well. It's good to see researchers like danah boyd who are looking into this and actually having conversations with teens about social media and their usage. Statistics are great, that's good proof for an argument, but when people are reduced to statistics then it reduces those personal stories from people. I don't want to make this project about me, but it's good to keep things in perspective when reading through all the data and remind myself that there are people who used social media the same way I did.
I think it could continue to be a positive thing for some people, but that there should be caution because I've been reading a lot lately about internet addiction and millennials using it too much.
But I think everyone these days uses social media and the internet too much, not just millennials and teens with depression. The internet is something that that billions of people use, and who would have thought it could be used to help people? But it does, and there are tons of resources and hotlines online for people with depression, but until people are comfortable getting help with their issues, then the internet is a decent way to for them to work through issues and connect with people.
Below are some of the sites I used when I was working through my issues as a teenager:
Those sites were ones I came across and found a strong interest in and I used them a lot. I've gone through rotations with them usually, and I still use them all today. I think it's important for teens who are using social media to find ways to use it positively, and not to hurt others. That's what I want people to keep in mind.